I've been sat here for the last 20 minutes with a blank mind and itchy fingers. Then I got one of them "light bulb" moments. A product review, and not just any products either. The 5 I swear by! I'd beg any new mum to go and buy them since I really couldn't live without them. Some of them can be pricey but I assure you they are worth every penny!
So let's start off on the most obvious one.
Tomme Tippee Perfect Prep Machine – Retail Price: £59.99
I've heard a mixture of reviews for this product, but I can honestly say the Perfect Prep is like having another set of hands. For anyone who knows me, will know just how greedy my baby is. She is currently 11 weeks old and drains an 8oz bottle every 2-3 hours. With this hunger comes anger, and if that bottle isn't made within a minute once she's hungry then I can assure you people will know half way up the street. So I am so glad I invested in the Perfect Prep. Boiling the kettle and waiting for it to cool would be no option for my baby, since she really is the 'hangriest' baby I have ever come across. I've recently seen a post on Facebook about the insides of these machines becoming mouldy. Not every machine has this problem but since seeing it I make sure to take the screws off in the back and remove the cover just to check every week or so. This puts me at ease, I also clean the machine regularly as instructed and put a new filter in as soon as the indicator turns red to avoid a contaminated machine. Which I think is pretty much common sense to do so since the water your baby is drinking comes from this, you should want to make sure its clean inside and out. Anyways this product is a big fat MUST from me. It takes no longer than 2-3 minutes to make a feed for your little one. So to every hangry baby Mamma out there. I advise you to invest in one of these beauty's.
Sleepy Head Deluxe Portable Baby Pod – Retail Price £120.00
Most people would say this product is just an overpriced baby pillow, I agree with the over priced part. Most baby products are over priced since the retailers know you need them. This Pod is by far one of the best things I've invested in, It was initially designed for co-sleeping. Which I do from time to time when my little one wont settle well. The pod puts my mind extremely at ease since she is super snug inside of it with barely no room to move around, which means no rolling over on to her belly. Rolling over onto their belly and suffocating is one of the causes of Cot Death. I believe strongly that anything you can buy to avoid this is completely worth the money. The Pod is portable which means you can put it anywhere, in the baby's crib, on the sofa, on the floor, in bed. The Pod can also be used for tummy time, which is great for your little ones development. The Pod is meant to fit 0m-8m and you can then purchase a larger one for later on in your baby's life. Which I will most definitely purchase to put her in, inside of her cot. The one we use now we put inside her Next2Me Crib, which is another product I'd advise only hand in hand with the Sleepy Head Deluxe Pod. Id highly recommend the pod to any Mother.
Chico Next2Me Crib – Retail Price £169.99
This product I have used since the second day after I brought my baby home from the hospital. There has also been some mixed reviews of this product, reason being I will only use it hand in hand with the Sleep Head Deluxe Pod. Without this product I am almost certain neither me or my baby would enjoy a good nights rest. This crib can be used with one side pulled down so the baby is at your level and basically right next to you. The first night I brought my baby home she slept in her moses basket, she didn't sleep well since she hates not being able to see me and I didn't sleep well for the reason being – I hate not being able to see her. Now with this crib all I have to do is turn on my side and I can see all of her, make sure she's okay and even put her dummy back in without having to get up. This crib can also be used as a Travel Cot. She spent 9 months in my belly, so I'm planning on keeping her as close to me as possible until she can push me away and say "get off Mam". This product makes this possible, not only does she sleep well but so do I with the comfort of having her right next to me. I advise this product to any Mother who is scared to let their baby sleep in their cot/moses basket since you can't see them 24/7 through the night without getting up and waking yourself.
Dr.Brown's Anti Colic Bottles – Retail Price 4 pack £19.99
As most parents do, you buy the most common bottles which everyone buys – Tommee Tippee. A friend advised me to try these and I'd NEVER go back! I found with the Tommee Tippee the teats on the bottles used to get sucked inwards with the force Elsie used suck her milk with. It was about 8 weeks that she started to cry with an upset tummy because of her wind, I did not want to let my baby get colic if I could help it since I read of how much it can become one of the worst of things. A friend then advised me to try the Dr Brown's bottles, I looked at them and thought they look disgusting. But it isn't about looks. Now my baby has no trouble with her wind, the teat on these bottles never gets sucked in because of the shape of them which I'm extremely glad of. Since it was a nightmare to take the Tommee Tippee bottles from her every 2 minutes while she was feeding to regain the shape of the teat. She now happily takes 3-4 ounces before coming up for a burp. The Product isn't too highly priced and is completely worth having. Even if cleaning them is a little bit of a lengthy process compared to a normal bottle. At least my baby is no longer in pain.
Last but by no means least.
Tommee Tippee Closer To Nature Video Monitor and Sensor Pad
– Retail Price £199.99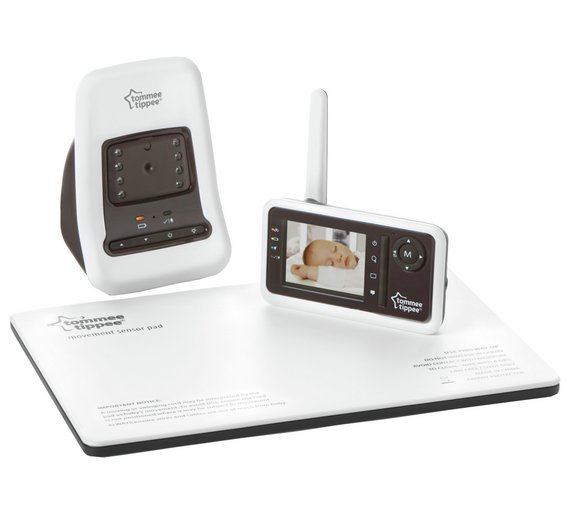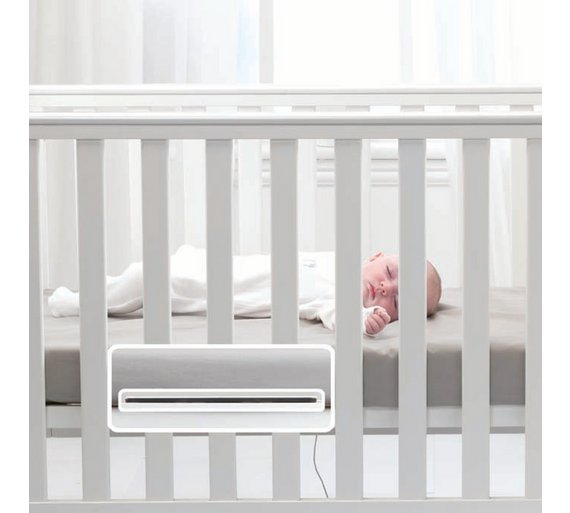 This product was bought for us as a gift from my Mother, it is indeed THE BEST GIFT EVER. For a while I was wanting a baby monitor since I wanted to put the baby up to bed before me so she could get used to it. This baby monitor has honestly given me a tiny bit of my life back. She now goes up to bed around 9pm, I'll settle her to sleep and come back downstairs. It is so nice to have some time to myself where I'm not putting her dummy in or even staring at her every 5 minutes to make sure she's okay. The monitor has night vision for the dark, you can also speak to her through the hand device where you can also see her. The monitor is also linked to a sensor pad which is a flat pad you put under the crib mattress which makes sure your baby is breathing, if the breathing stops then an alarm will sound for you to "GO CHECK BABY" sometimes the pad can become over sensitive and alarm when the baby stops moving, not breathing. You can turn the sensitivity down which id advise against. Id rather the false alarms than no alarms. This product has given me a tiny bit of my life back, I can now leave her nap in the day and clean knowing I can see her wherever I go. Even coming downstairs after 9pm to watch some of my TV series's. If you haven't already invested in a baby monitor id advise you to, and especially this one.
That's it for my five best things, id advise any of them to any mother in the world, also id just like to point out to make sure you read the instructions of any baby product you purchase since their not something you should be 'winging'. I hope if you already have these you love them as much as I do, and if you don't have them then I really would think of buying them if they're within your budget. It's a shame they are as pricey as they are. But your little ones safety and well-being really is worth the price tag.
Once again, thank you for sharing this journey with us.
-MLS and Me.